Find out what restaurants are working in Rosarito to serve you at «Mesa Segura»
Although we know that the presence of the COVID-19 virus is a reality worldwide, prevention and special care will help us stay healthy. Aware of this, restaurateurs in Playas de Rosarito have adopted the concept of "Safe Table" with the intention of reactivating their activities without neglecting the health of their guests and collaborators.
International, national and local health authorities have already established recommendations for public places to strengthen their hygiene measures in all areas. The gastronomic sector in Playas de Rosarito is committed to taking care of you, so they have decided to start operating under the "Safe Table" protocol; in the reopening phase to only 50% of its total capacity and taking into account the following precautions:
Thorough cleaning of the establishment.
Placement of sanitizing mats.
Entrance and exit of diners through different doors.
Temperature measurement of staff and diners.
Mandatory use of masks.
Staff must wash hands frequently.
Provide natural ventilation, with open doors and windows.
Arrangement of antibacterial gel in different areas of the room.
Do not seat more than 10 people per table.
Preferably a digital menu.
Social distancing of 1.5 meters (6 feet at least).
Restricted access to the area for children.
Private or meeting rooms do not exceed 10 people.
Table set up in front of the diner and constant change of service.
No accessories or decorations on the tables.
Serve sauces and dressings in individual presentations.
Use bars and waiting rooms only with social distancing.
In the case of Buffets, have protective bars, keep food covered and only staff can serve each diner.
Preferably payment by card.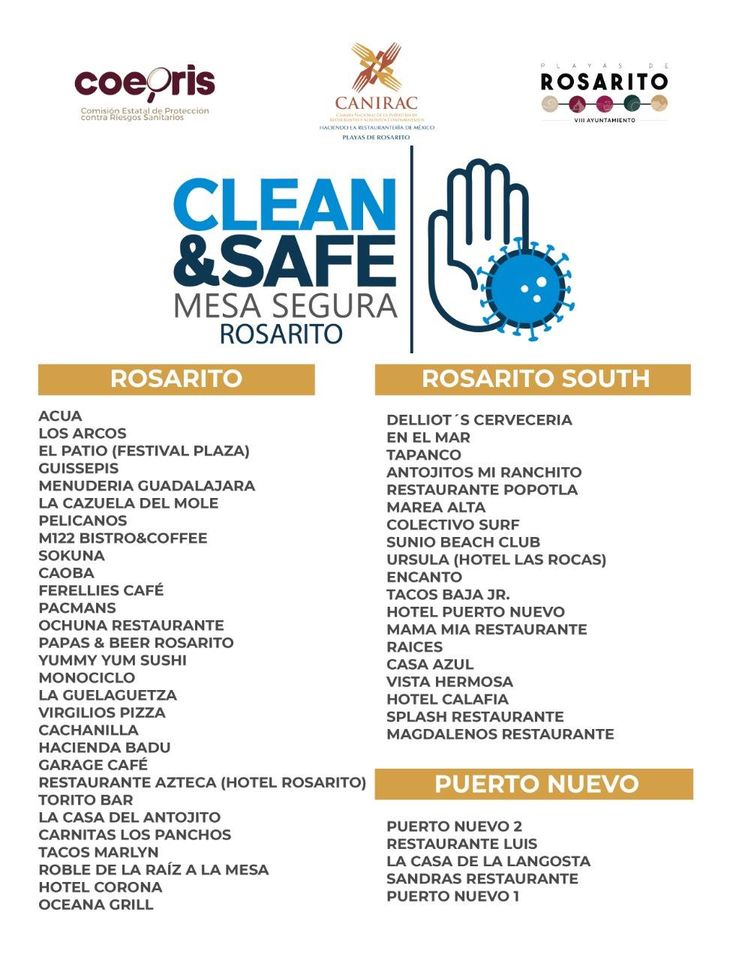 We are waiting for you soon, so that you can enjoy the service of your favorite restaurant and that characteristic flavor that you only find in Playas de Rosarito.
CONSULTATION MATERIALS
General information about the «Safe Table» program.